Are you looking for bathroom towel hook for every style? Beautiful bathroom décor isn't just about colors, flooring, and tiles. Although these make a big difference in the overall look of your space, you can't forget about the more minor details: faucet style, vanity hardware, and, of course, towel and bathrobe hooks.
Hooks usually keep a low profile because of their practical function. But paying attention to this small detail and creativity can help you use hooks as more than just functional features: they can also be part of the décor.
Here are nine-bathroom hooks that suit every style of bathroom.
1. Kids' Bathroom With Animal Hook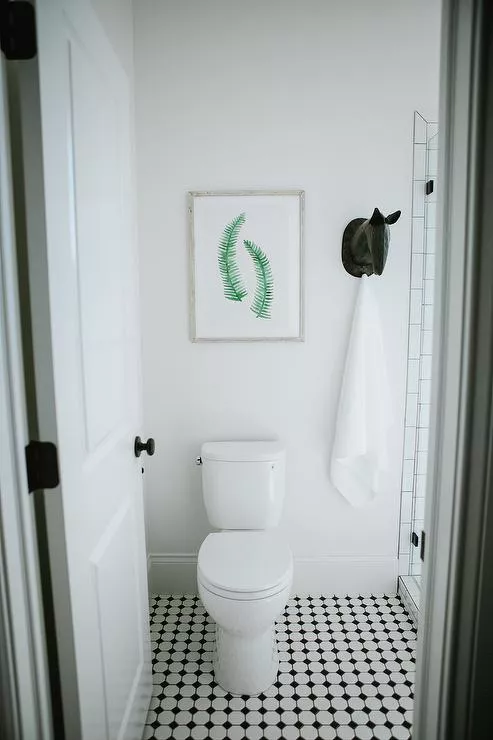 Kids' bathrooms have a love affair with animals of all kinds, marine and terrestrial alike. This minimal, contemporary kids' bathroom by House of Jade Interiors is no exception, even if the animal presence is a little more subtle. The animal head hook provides just the right amount of decorative flair without overpowering the space. Even the animal itself is on the abstract side, suggesting rather than representing a horse.
You can choose from various animals for decorative hooks, from elephants and deer to octopi, bats, and rhinos. 
2. Luxury Shower With Diver Towel Hooks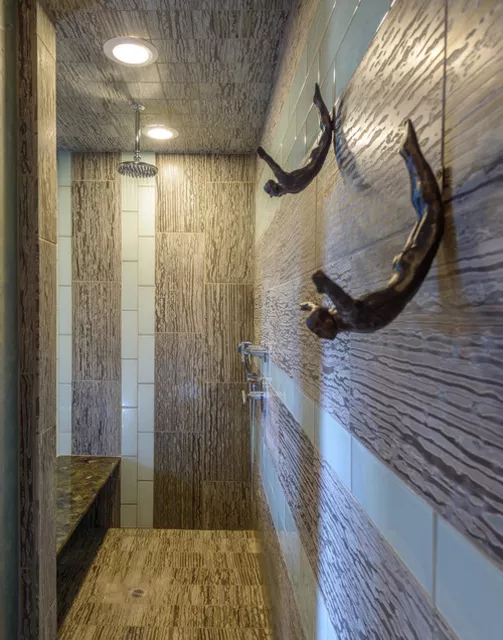 This custom shower space features diver sculptures used as towel hooks. These original hooks add to the luxurious style of this bathroom by Pure Design Environments. The benefit? They are as beautiful as practical, and they can remain uncovered and still serve as décor elements.
3. White Bathroom With Brass Door Hook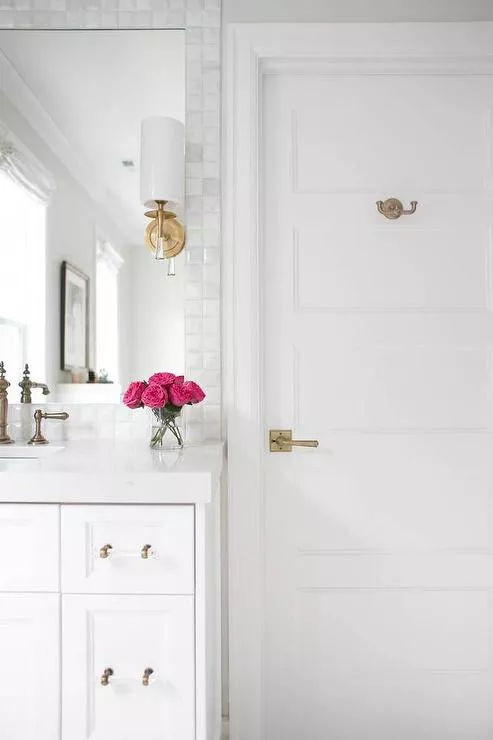 The beauty of this bathroom hook isn't so much in its style—it's a hook you can find in any hardware store—but rather in its material and its fit within the overall bathroom style. This bathroom by​ ​Caitlin Wilson Design is all white with added touches of brass everywhere, including the carefully chosen door hook. Sometimes all you need is a small detail to bring a space together, rather than something splashy and attention-getting.
4. Beach Style Bathroom With Octopi towel hook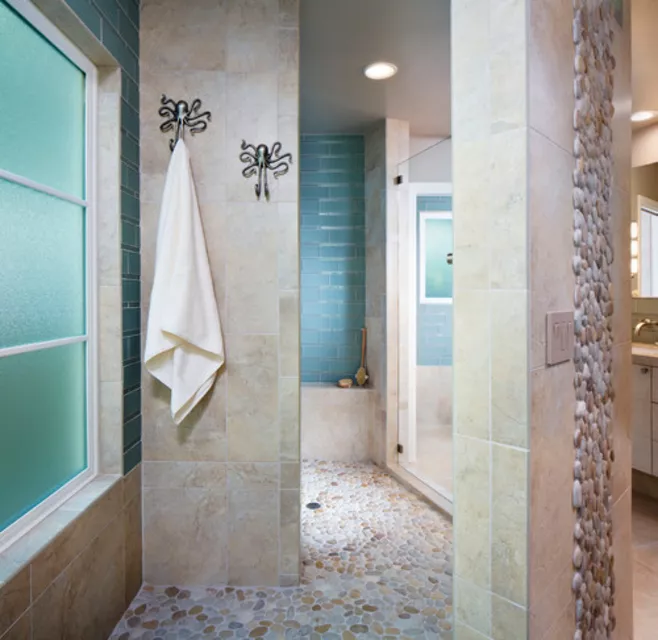 Animals are good for more than kids' bathrooms, too. This adult beach-style bathroom by The Home Improvement Group, via Houzz, features two octopi hooks that work just right with the nautical theme. The pebble floor helps move water towards the drain, and it is heated in the drying-off area to avoid cold morning feet.
5. Hollywood Bathroom With Doorknob towel hook
A white-and-gold bathroom, found on Design Sponge, featuring a white subway tile with a golden accent and gold-finished faucet hardware, also uses a vintage doorknob as a hand towel hook. The Hollywood look is complete with a make-up-room style light fixture. 
6. Rustic Bathroom With Wooden Towel Rack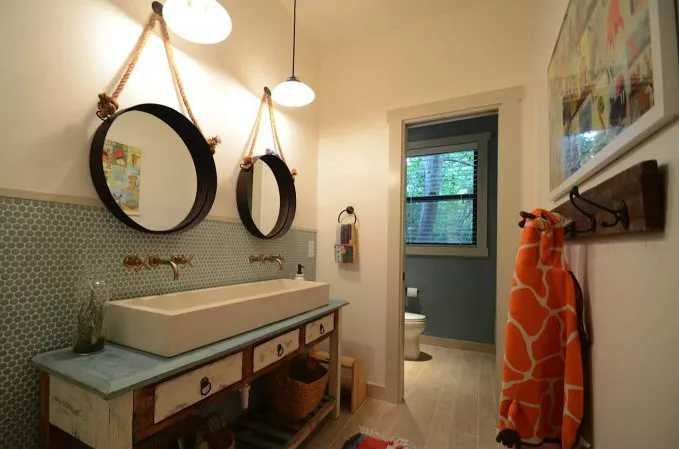 This rustic bathroom by Masterpiece Builder of Austin, with a double-wide sink and wall-mounted faucets, also features a repurposed wood rack with mismatched hooks. If you have old clips and a piece of wood hanging around, it's easy to copy this innovative idea, especially if you enjoy a more rustic, handmade décor style.
7. Contemporary Bathroom With Wire-Style towel hook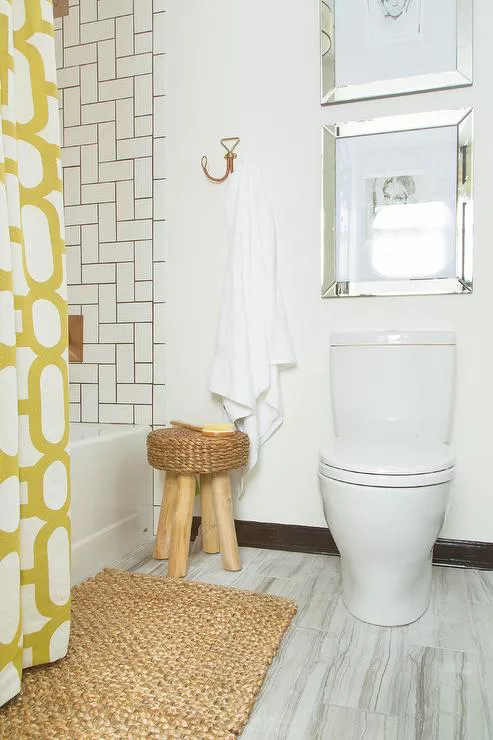 The hook from this bathroom by Dayka Robinson Designs is fascinating because of its wiry, open geometrical design. It's refreshing compared to the heavy, complete themes that we tend to see in most bathrooms. Hook racks with similar hook designs are easy to find and install, especially if you need more than two hooks for the whole family. Also, note the original staircase-like subway tile pattern, which is another refreshing change from the typical installation.
8. Kids' Bathroom With Caterpillar Hook Rack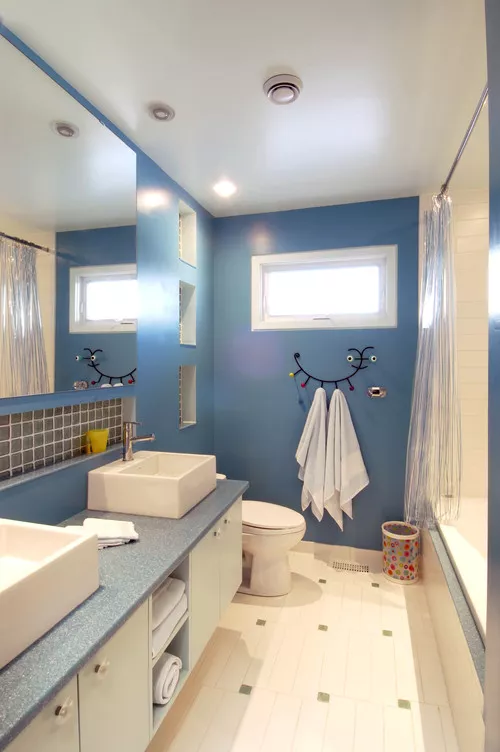 With another interpretation of the animal theme, this bathroom by Southam Design uses a caterpillar-inspired hook rack with colored pegs, googly eyes, and a smiley face. The bright blue is an excellent choice for a kids' bathroom, as is the colorful wastebasket. 
9. Bathroom With Monogrammed towel hook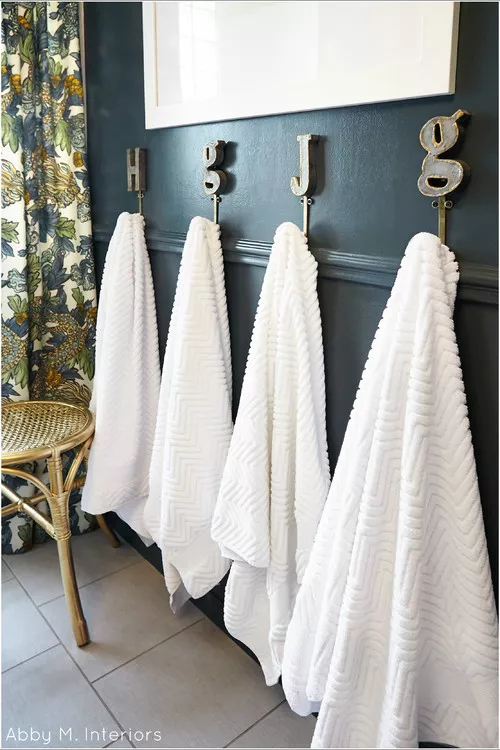 If you share a large bathroom with several family members (or roommates), maybe you need a way to identify which towel is whose. As this bathroom by Abby Manchesky Interiors suggests, perhaps some monogrammed hooks will do the trick. These hooks add style and a personal touch and ensure that everyone knows where their towel is. 
TOP 9 BATHROOM TOWEL HOOK FOR EVERY STYLE | DON'T FORGET TO READ OUR LATEST BLOG POST | READ MORE